Training 2in1 Shorts - Men
Regular price
$219.00
Sale price
$153.30
Tax included.
---
Size Chart
XS (I)
S (II)
M (III)
L (IV)
XL (V)
XXL (VI)
1: SEAM (WOMEN)
76.5
77.5
78.5
79.5
80.5
2: WAIST (WOMEN)
59-65
65-71
71-77
77-83
83-89
3: HIP (WOMEN)
85-91
91-97
97-103
103-109
109-115
1: SEAM (MEN)
82.5
83
83.5
84
84.5
2: WAIST (MEN)
79-85
85-91
91-97
97-103
103-109
3: HIP (MEN)
89-95
95-101
101-107
107-113
113-119
1: SEAM (WOMEN)
2: WAIST (WOMEN)
3: HIP (WOMEN)
1: SEAM (MEN)
2: WAIST (MEN)
3: HIP (MEN)
S (II)
77.5
65-71
91-97
82.5
M (III)
78.5
71-77
97-103
83
L (IV)
79.5
77-83
103-109
83.5
XL (V)
80.5
83-89
109-115
84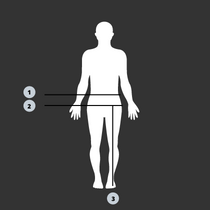 Size chart for 2in1 Shorts, Loose Fit Shorts, Training Compression Tights, Active Base Shorts, Ski Base Tights
Innovative Sportswear for your workout: Training 2in1 Shorts for Men
Why choose between performance and style when you can get both in these shorts featuring TIGHTFIT technology? Take the lead without any compromises in the Training 2in1 Shorts for men. The inner tights fit like a glove and follow your every move thanks to their bi-elastic design. The Loose Fit Shorts on top create the perfect loose look. Keep your keys or gym card safe without losing them in the zipper pockets.
The perfect fit – for athletes who expect the best
Put them on and enjoy a smooth workout without worrying about the fit: The anatomically optimized Training 2in1 Shorts let you focus on what counts – your best performance.
The next level of comfort – thanks to inner functional tights
The high-tech blend of materials in these shorts for men is equipped with TIGHTFIT technology: The inner functional tights are made of a bi-elastic fabric that stretches longitudinally and transversely while retaining its shape. This gives you maximum freedom of movement. The pressure-free waistband and cuffs have a stay-put fit and the flat seams don't rub against your skin.
Tight fit and loose look – combined in stylish running shorts for men
The casual training shorts are great for working out at the gym or training outside. The inner tights have a discreet effect while the sewn-on Loose Fit Shorts look great on top.
Order the Training 2in1 Shorts from CEP Activating Sportswear and experience the combination of sophisticated high-tech fabric and casual style.