Nighttech Reflective Compression Calf Sleeves - Men
Regular price
$64.95
Sale price
$51.96
Tax included.
---
Size Chart
CALF CIRCUMFERENCE (WOMEN)
25 - 31
32 - 38
39 - 44
CALF CIRCUMFERENCE (MEN)
32 - 38
39 - 44
45 - 50
CALF CIRCUMFERENCE (WOMEN)
CALF CIRCUMFERENCE (MEN)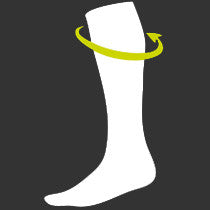 Measure your calf circumference at the widest point.
CEP Nighttech Compression Calf Sleeves - Reflective Compression Calf Sleeves
Sporting the same high level of compression as the Run Sock 2.0, the Calf Sleeves 2.0 matches perfectly with your favorite pair of CEP socks. CEP Calf Sleeves give you more energy for greater endurance and enhanced performance for all types of sports. They feature medi compression, which improves circulation, reduces the muscle vibrations that frequently cause sore muscles, and increases coordination. This has the overall effect of helping prevent injuries while noticeably improving your sense of motion. CEP Calf Sleeves are the perfect way to combine compression technology with your favourite CEP socks.
The New Reflective Dots make these the must-have for anyone doing activity both during the day & at night! Stay visible outside with colorful reflection.
Quality Attributes
German Made (Medi Compression)
Special Compression Profile Activates The Flow Of Blood In Muscles
Perfect Anatomical Fit
Highest Quality Materials & Premium Craftsmanship For Extreme Durability
Micro-Fibre Technology For Superior Comfort
Functional Attributes
Optimum Recovery & Performance
Maximum Stability For Calf Muscles
Reduces Muscle Soreness, Risk of Injury; & Increases Blood Circulation
Heat & Moisture Management (Hydrophilic Design)
Open-Pore Mesh Structure In The Calf For Excellent Ventilation
Anti-Bacterial & Odor-Reducing Properties