Training Active Shorts - Women
Regular price
$89.95
Sale price
$62.97
Tax included.
---
Size Chart
XS (I)
S (II)
M (III)
L (IV)
XL (V)
XXL (VI)
1: SEAM (WOMEN)
76.5
77.5
78.5
79.5
80.5
2: WAIST (WOMEN)
59-65
65-71
71-77
77-83
83-89
3: HIP (WOMEN)
85-91
91-97
97-103
103-109
109-115
1: SEAM (MEN)
82.5
83
83.5
84
84.5
2: WAIST (MEN)
79-85
85-91
91-97
97-103
103-109
3: HIP (MEN)
89-95
95-101
101-107
107-113
113-119
1: SEAM (WOMEN)
2: WAIST (WOMEN)
3: HIP (WOMEN)
1: SEAM (MEN)
2: WAIST (MEN)
3: HIP (MEN)
S (II)
77.5
65-71
91-97
82.5
M (III)
78.5
71-77
97-103
83
L (IV)
79.5
77-83
103-109
83.5
XL (V)
80.5
83-89
109-115
84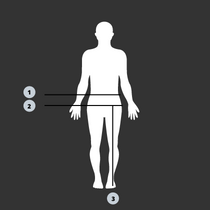 Size chart for 2in1 Shorts, Loose Fit Shorts, Training Compression Tights, Active Base Shorts, Ski Base Tights
CEP Compression Women's Training Shorts - Women's Activewear Shorts
The CEP Women's Compression Training Shorts are part of the New CEP Fitness & Activewear Range. These skin-tight Training Gym Shorts are anatomically shaped and provide maximum support so you can take your training to the next level. Designed specifically for the needs of athletes in summer, they regulate your body temperature while you work out. The shaping effect creates a beautiful silhouette so you feel even more comfortable when you take part in your favorite sports activities.
Premium fibers provide excellent heat and moisture management
Body Shaping thanks to TIGHTFIT technology
Compression panels stabilize and support major muscle groups
Anatomical design contours the body for zero chafing
4-way stretch for ultimate comfort.
Tightfit Technology for a pressure-free fit with an anatomical design
The Training Shorts come equipped with Tightfit Technology to perfectly sculpt your body. Experience the unmatched wearing comfort that comes from a perfect, skin-tight fit. Enjoy the intelligent combination of slip-free support and a comfortable waistband – plus a shaping effect, without any pressure.
Sportswear for indoors and out – with advanced technology and a feel-good effect
Put them on and feel the difference: The high-tech fabric of these Training Shorts for women is based on an innovative blend of functional materials and careful finishing with flat seams. It follows your every move and offers maximum comfort indoors and out, any time of day.
Panties for women with effective heat and moisture management
No matter where you train with these shorts, you'll always feel comfortable thanks to perfect heat and moisture management. Sophisticated functional materials with exceptional breathability wick away moisture so you maintain a comfortable body temperature even during challenging workouts.