Loose Fit Shorts Black - Women
Regular price
$99.95
Sale price
$39.95
Tax included.
---
Size Chart
XS (I)
S (II)
M (III)
L (IV)
XL (V)
XXL (VI)
1: SEAM (WOMEN)
76.5
77.5
78.5
79.5
80.5
2: WAIST (WOMEN)
59-65
65-71
71-77
77-83
83-89
3: HIP (WOMEN)
85-91
91-97
97-103
103-109
109-115
1: SEAM (MEN)
82.5
83
83.5
84
84.5
2: WAIST (MEN)
79-85
85-91
91-97
97-103
103-109
3: HIP (MEN)
89-95
95-101
101-107
107-113
113-119
1: SEAM (WOMEN)
2: WAIST (WOMEN)
3: HIP (WOMEN)
1: SEAM (MEN)
2: WAIST (MEN)
3: HIP (MEN)
S (II)
77.5
65-71
91-97
82.5
M (III)
78.5
71-77
97-103
83
L (IV)
79.5
77-83
103-109
83.5
XL (V)
80.5
83-89
109-115
84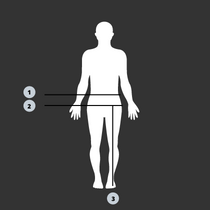 Size chart for 2in1 Shorts, Loose Fit Shorts, Training Compression Tights, Active Base Shorts, Ski Base Tights
LOOSE RUNNING SHORTS FOR MEN: RUN LOOSE FIT SHORTS – RUN LIGHT
The Run Loose Fit Shorts offer amazing comfort with a relaxed design that incorporates elastic fabric featuring SMART STRETCH technology. With this unbeatable combination, get ready to top your personal best with ease in these running shorts for men. You'll also love the practical details like a zipper pocket and reflective panels for added functionality and safety.
Run loose and combine according to the weather
The relaxed, lightweight fit of these loose men's running shorts is especially welcome on hot days The spandex-infused fabric guarantees maximum freedom of movement, even for the most muscular legs. When it gets colder outside, simply slip the Run Loose Fit Shorts over your tights to create a fashionable – and functional – layered look.
Intelligent details = superior comfort
The Run Loose Fit Shorts for men have an extra-wide waistband for excellent, adjustable support. Thanks to their perfect stay-put fit, you can hardly tell you're wearing your shorts – and stay focused on your training activities. The integrated zipper pocket provides ample room for an energy bar, keys or other small items and keeps them safely stowed.
SMART REFLECTIVE panels for safe night runs
You can't see the reflective panels during the day, but they shine at night: They reflect light from cars and bikes for maximum visibility and safety when you run in the dark.
Order your Run Loose Fit Shorts by CEP Sportswear for men now online and discover from the successful combination of a loose look and excellent functionality.
Functional Attributes
Optimum Recovery & Performance
Maximum Stability For Leg, Thigh, Quad & Groin Muscles
Quick Drying Fabric
Reduces Muscle Soreness, Risk of Injury; & Increases Blood Circulation
Heat & Moisture Management (Hydrophilic Design)
Anti-Bacterial & Odor-Reducing Properties